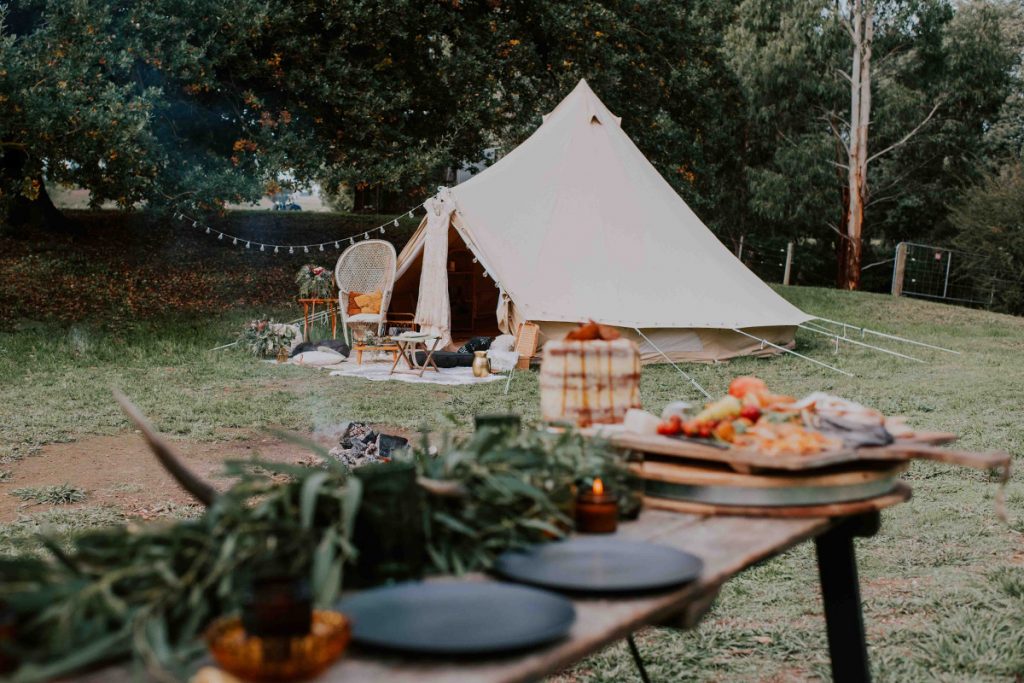 Intimate and Wild Bell Tent Elopement Glamping Wedding Packages in Gippsland, Australia
The ultimate boho, relaxed elopement. The wild Gippsland region is 3hrs from Melbourne.
It has lakes, pristine water rivers, mountains and the ocean.
How it works
A new take on eloping: Glamping wedding!
We provide everything you need for your big day:
Celebrant
Photographer/videographer
Food
Venue and camp set-up
Flowers
Hairdresser
Make-up and
Pre-wedding pampering session
and Extras…
You just rock up on the day, with your partner (and possibly your friends) and your clothes.
Once you've decided on a package option, we discuss with you and custom make your ideal intimate wedding. You have a choice of 4 different locations for your wedding. Whether you prefer the beach, a paddock near the river or the mountains, all in Gippsland, we help prepare the ultimate glamping wedding for you.
The food is also tailored for you: we have vegan, gluten free and nut allergy friendly options. You want to cook on the camp fire? It's possible! We tailor our package to the location and to your needs.
Let Under the Moon do the hard work. Just sit back and enjoy, we're here to provide you with the ultimate glamping tents experience for your wedding.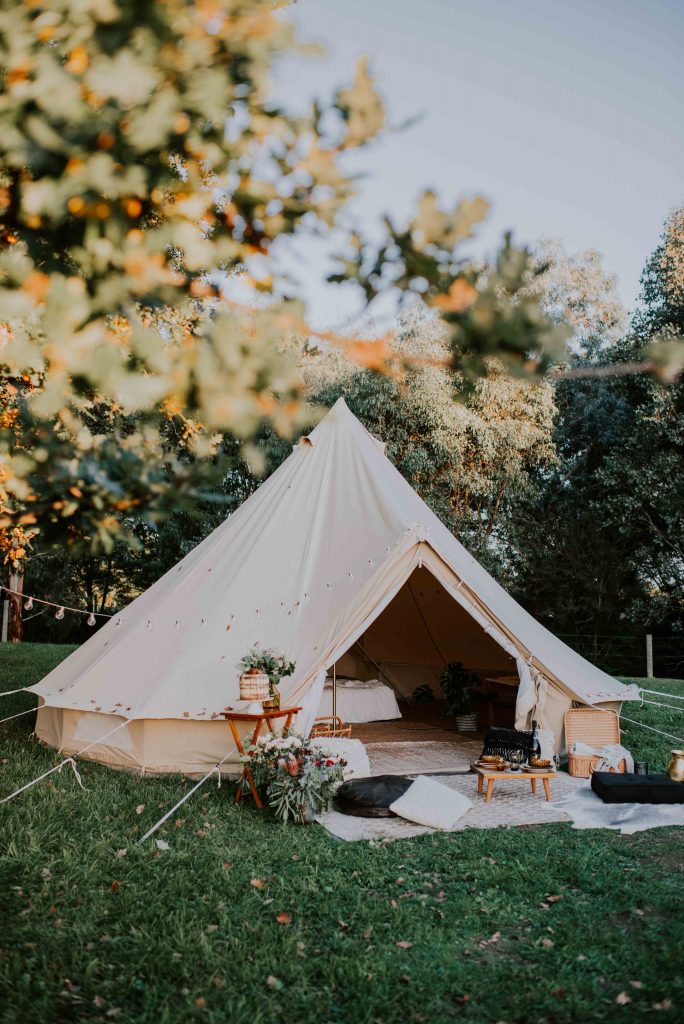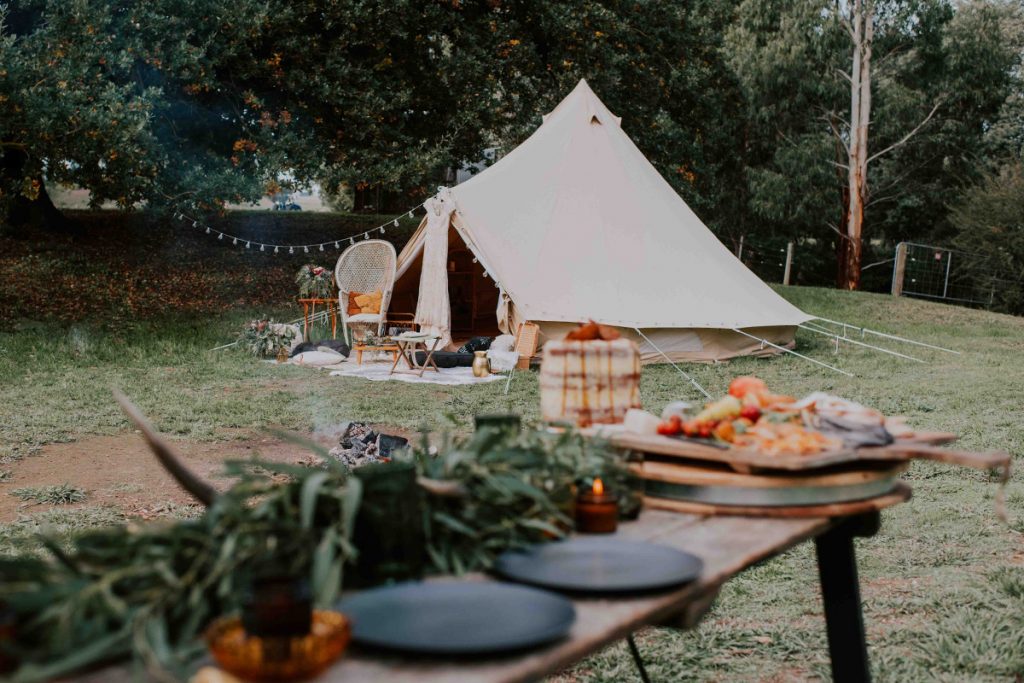 The ultimate 'glamping' elopement package in Gippsland!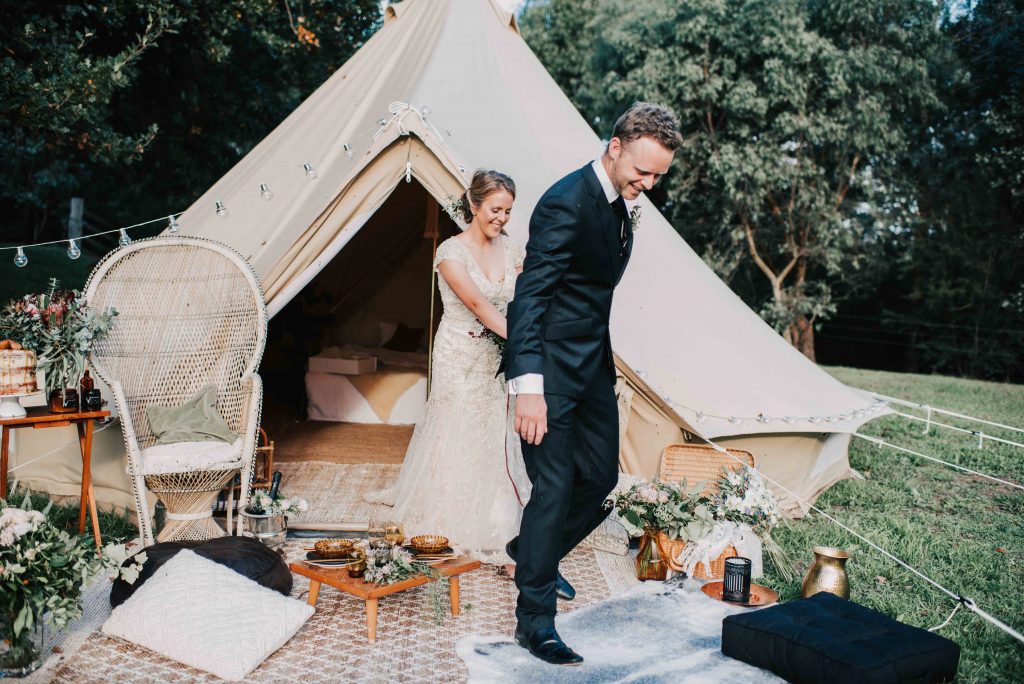 By booking your wedding with Under the Moon,  you have access to the whole team. They will custom make every single service for you. You will be able to be directly in touch with them or let Under The Moon do the liaising for you…
Meet The Bell Tent for Weddings Elopement Glamping Team:
Morgane is behind the works and the idea of Under the moon. With the help of the team, she will be the one making sure you are looked after, and that your day is perfect. Under the moon provides all the services listed below thanks to its awesome team of carefully curated vendors. With Under the moon, you have access to 5 to 8 meters bell tents, for a high end glamping wedding experience. Under the moon provides your venue, with all that you need. If you decide to stay on the overnight camp, you'll have access to a comfy bed under the stars, eco-friendly toileteries, soft blankets, breakfast … just like your own little hotel room in the wild.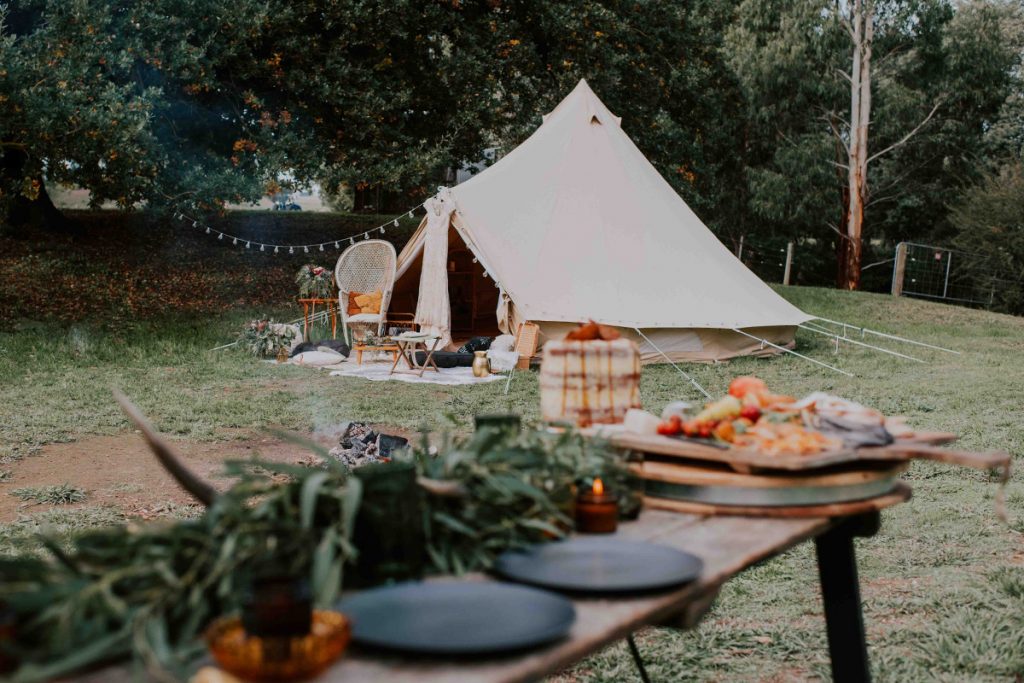 Our campsites are complemented by the 100% Cotton canvas from Breathe Bell Tents Australia. They use the best quality canvas tested in the harsh Australian climate, they withhold the heaviest of rain, thunder and lightning as well as the harshest of sunshine. Sustainable, renewable, and one of the most biodegradable fabrics on earth. The canvas is soft, natural, earthy that glows inside and out with natural or artificial light. They have multiple choices of tents, and a variety of accessories too, this is why we choose Breathe Bell tents to be our provider for glamping tents for weddings!
Facebook    ||    Instagram    ||    Website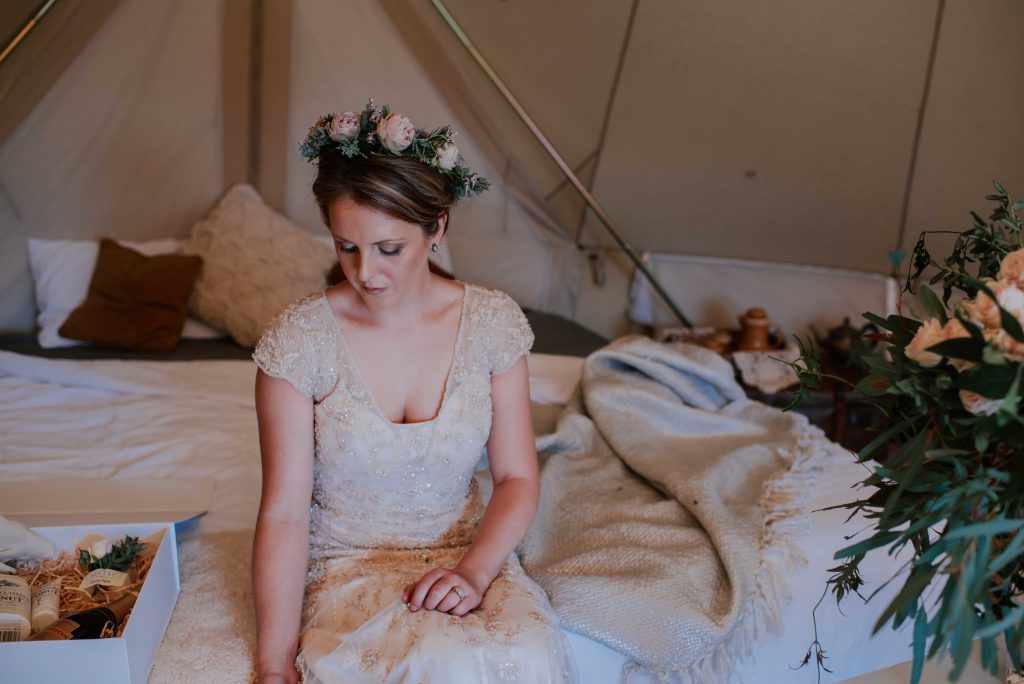 Bec is the founder of The Simple Gesture. A bespoke gifting studio that specialises in curated and custom luxury gift boxes and new floral design too. Her vision is to combine what she is passionate about; finding the perfect gift, flowers and the area that she lives and loves, Gippsland. Her bouquets consist of beautiful seasonal blooms, with a wild and whimsical feel. She loves foraging to find the most natural and untouched ressources. The bouquets, posies, boutonnières are simple, yet elegant. Colour and style of flowers will vary depending on the season and location, to make sure it is in accordance with your event.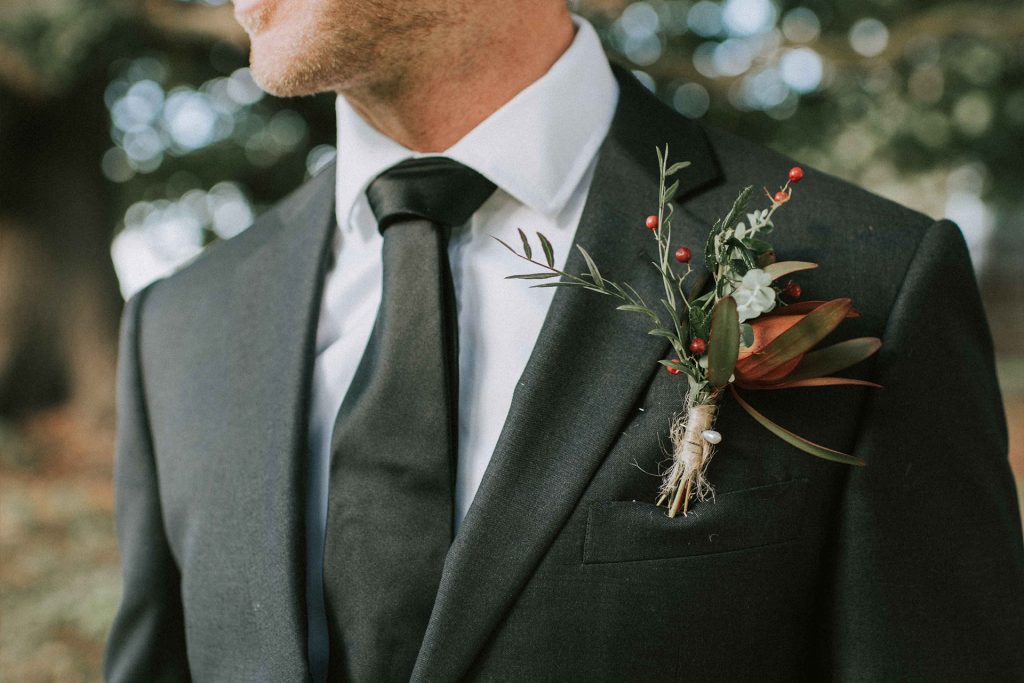 Duart is an institution since 1883, and today the place is still renoun for his delicious cooking. Nath and Tash are the young couple behind the business. They have a modern and passionate vision about food and entertaining guests. They can tailor your menu to suit your desires, your location and even the weather. They can make it a gargantuan feast for your all your senses or a small private simple affair. They can provide large timber grazing platters, grill local produce & poach pears on an open fire in the mountains or BBQ seafood at the beach; whatever floats your boat! And, they have their own VW Kombi named "Bertha" who is responsible for delivering our unique style of hospitality for your celebration Under the moon…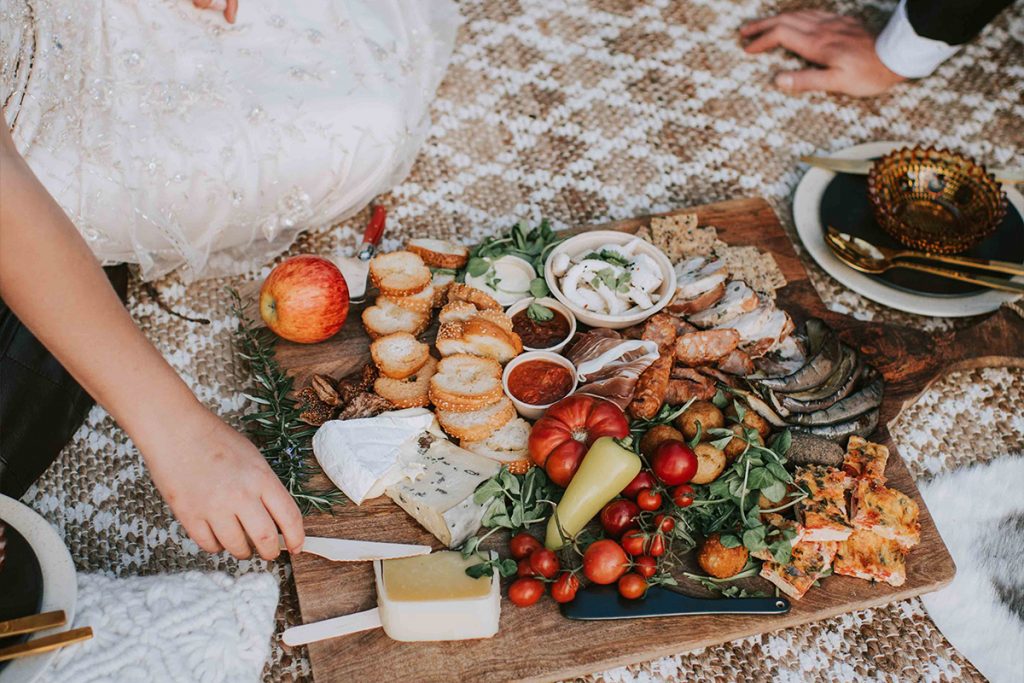 Petite Visuals' style of photography and video is a cross between candid and fine art. Morgane, the frenchie behind Petite Visuals, likes natural light, shadows and most of all real emotions. It's kind of documentary, intimate, with a touch of quirkiness. She tries to take pictures that people will cherish for a long time. The little details of a wedding, when people can look back and say: "oh remember that tie Uncle Steve was wearing?! What a cracker" or the details of a family home "remember that wallpaper in the kitchen at your mum's, look!".
Getting a bite of people's lives and making it a beautiful memory.
Facebook    ||    Instagram    ||    Website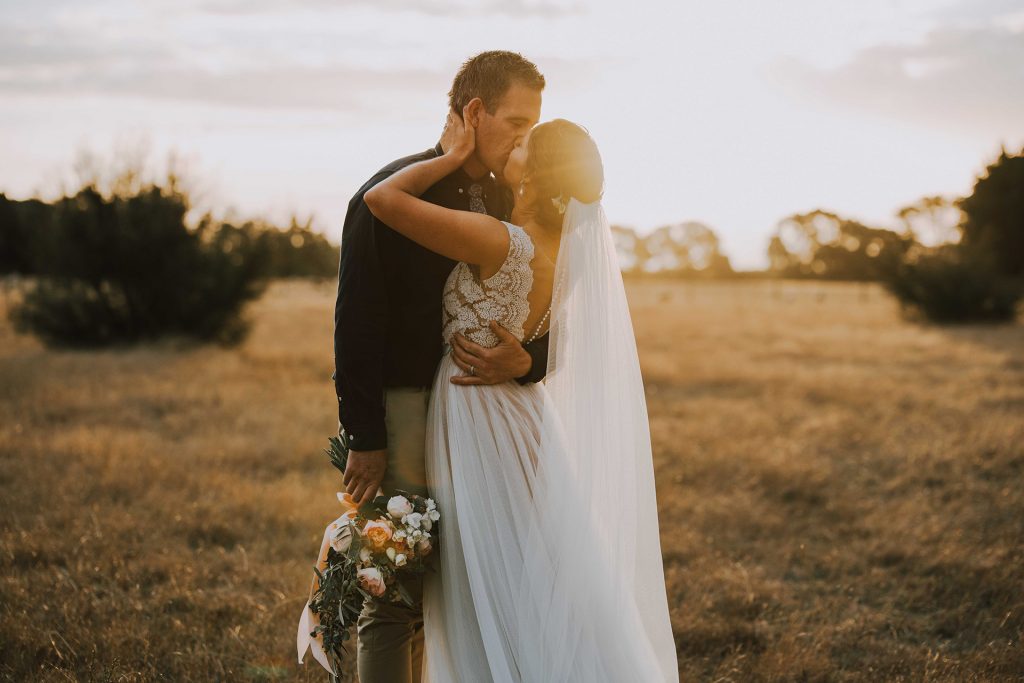 Jacinta at the Harmony nest beauty and spa retreat has 15 years experience in making men and women feel beautiful! She offers her services from her little spa in the hills of Toongabie, but for Under the moon, she will be coming to you, on the camp to offer you quality treatments before your wedding making sure you are floating on a cloud of pure bliss and feeling 100% pampered and rejuvenated. All her treatments are made from botanical, natural, organic and skin loving plant nutrient, whilst her natural aromatherapy sensory experience will relax your mind, body and soul. Your own personal spa retreat in the wild.
Services available includes: Make-up, face/body  treatments and massages. 
Facebook   ||   Brochure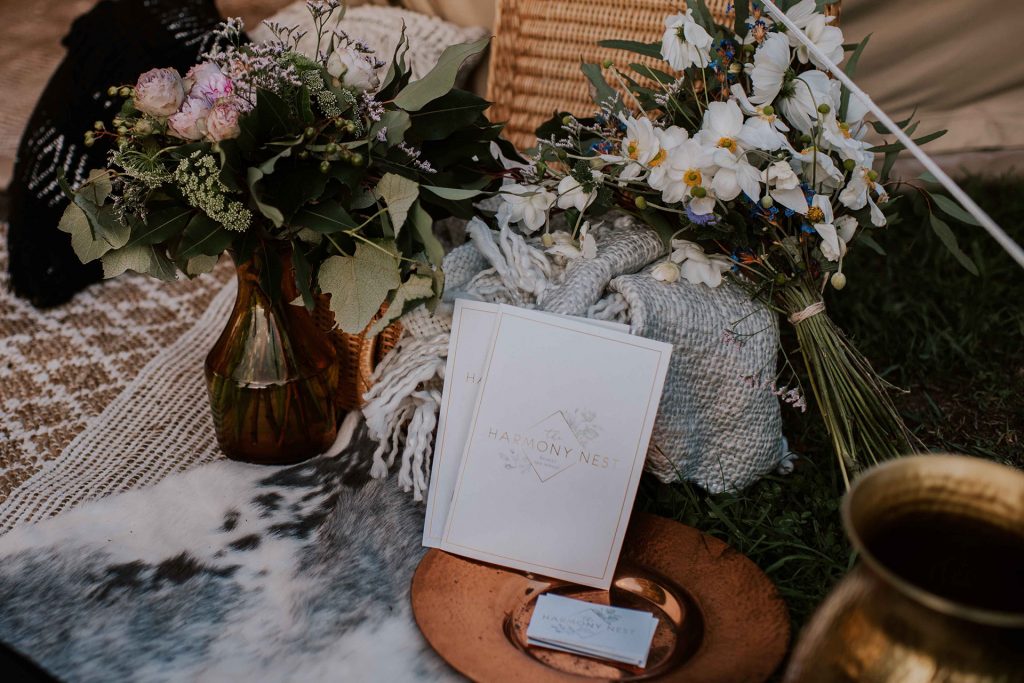 MARRIAGE CELEBRANT
Your wedding day should be one of the happiest days of your life. So we are here to take the stress out of planning your ceremony! We have a choice of celebrants that we believe are the best at what they do. They design a ceremony that reflects your wishes, needs and expectations, ceremonies just for you. A true professional with a youthful approach, they are the ideal celebrants to work with you to make your ceremony vision a reality. They focus on your story, your path, your journey and your own unique love to create a ceremony that will truly resonate with you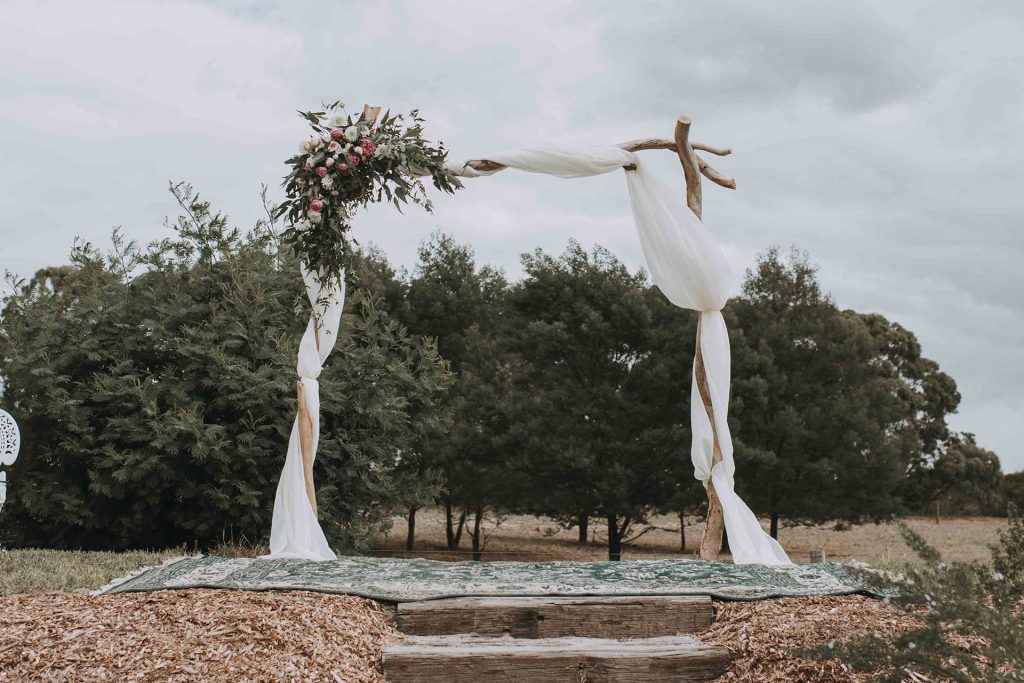 Victoria Dunham is a highly regarded freelance hairstylist in fashion, bridal and commercial styling.
She has over 16 years experience in hairstyling. Throughout her career, Victoria has worked internationally with hundreds of clients all over the world; working with leading photographers and studios. Her passion, her style and her specialty in bridal styling makes her the best suited for Under the Moon. She combines soft, romantic, natural and wild unique modern creations. Depending on what you want, she will know how to render and create your unique and personalized hairstyle.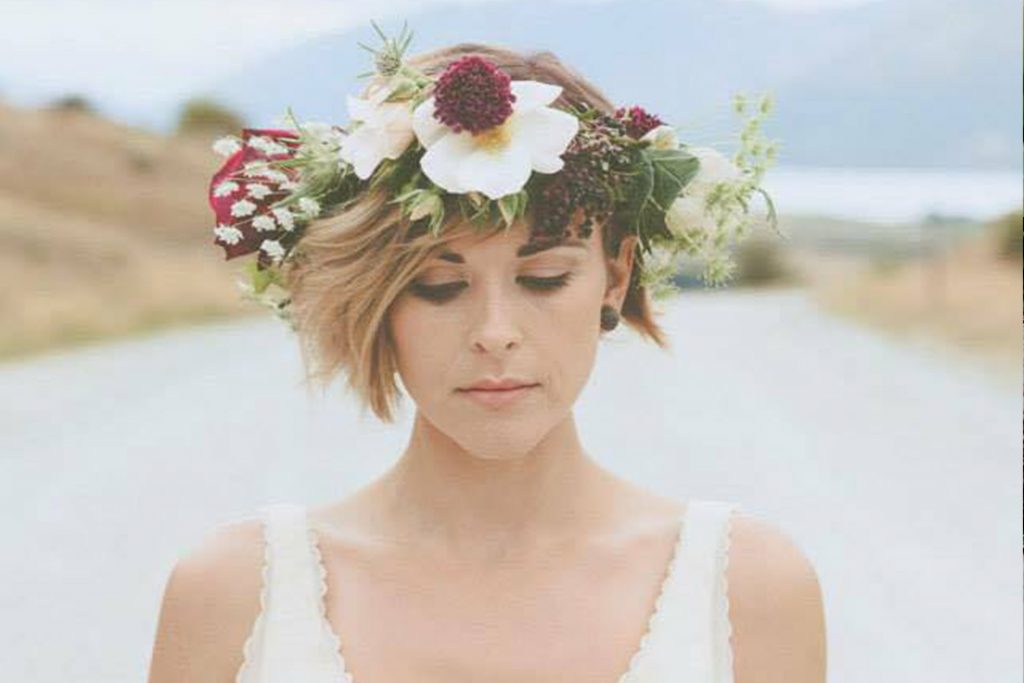 STYLIST
Klaire Anderson is the owner and creator of bohemian home decor brand The Huntress & Co. Known for her 100% Soy Candles and Reed Diffusers in gorgeous amber glassware, her earthy scents will unleash your wild side. What The Huntress & Co. will bring to Under the Moon Elopements is a unique collection of candles and reed diffusers that will complement the outdoors, for you to use on your big day as well as take home and enjoy for months to come. Klaire will also be bringing her qualified interior decorating expertise to your elopement by styling your glamping experience with an elegant bohemian feel. The Huntress & Co. understands how intimate and special an elopement can be and with the Under the Moon team we believe we can create a personal event for every couple.

Amy and Dean, a couple in real life and partners in Gippsland's awesome photobooth. They were Gippslands very first photo booth, which means they have plenty of experience and a ton of events under their belt. They've got this boothin' thing down to a fine art. They can really be trusted  to deliver amazing products and a fun, interactive, memorable experience for you and your guests. They pride themselves on detail and design, so you can rest assured that their booth will fit in perfectly with the vision you have as far as styling and the final print are concerned. Think awesome backdrops, top-notch modern gear, and the latest trends in the photobooth industry.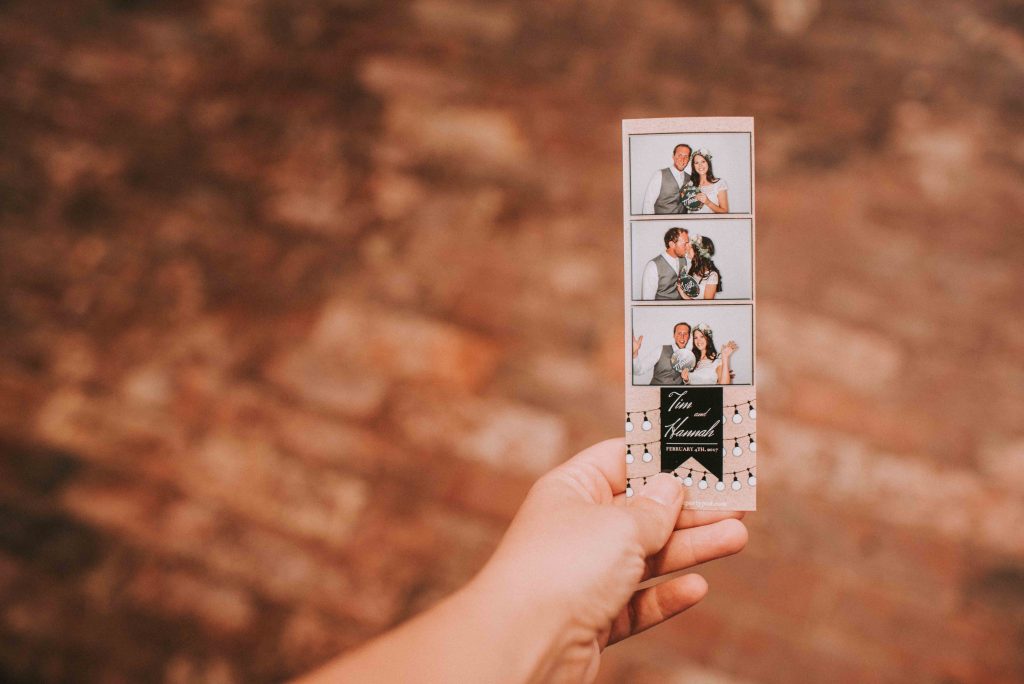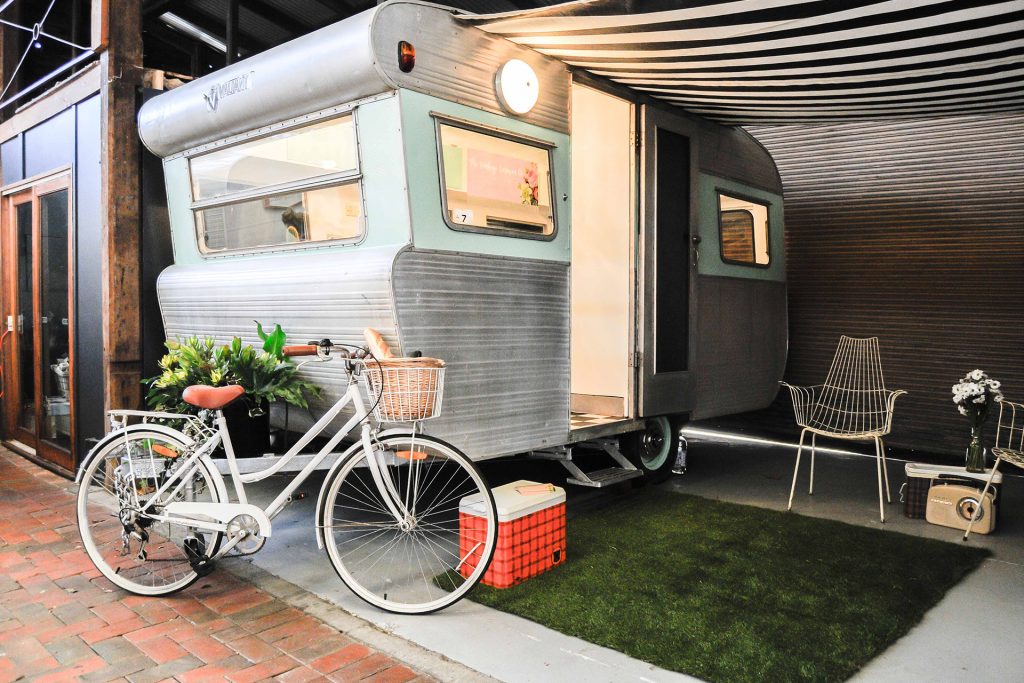 Bec, not only she's the super stylist and florist for Under the moon, she is also a super curator of awesome gifts. Her business, The Simple Gesture specialises in just that. So if you would like a special gift box to give your partner on the day, or to your bridal party, or your guests, Bec can provide them! We guarantee your loved ones will LOVE them. They are just delightful.
Facebook    ||    Instagram    ||    Website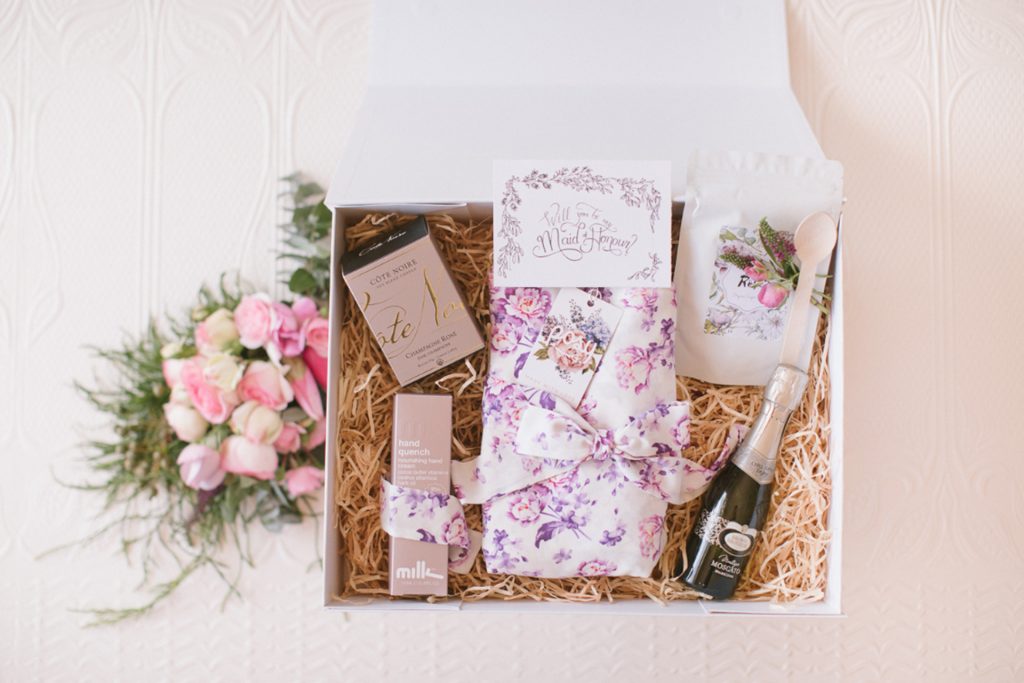 www.belltent.com.au