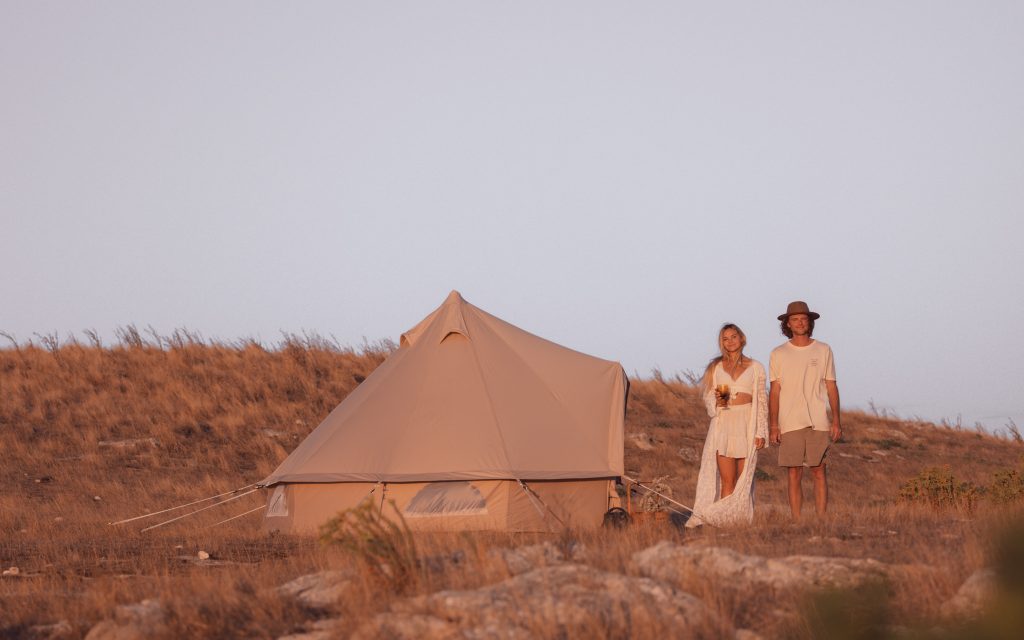 FOR IMMEDIATE RELEASE
Breathe Bell Tents and CanvasCamp Australia Announce Merger to Create a Leading Force in the Outdoor Accommodation Industry
Sydney, Australia 1st July 2023 — Breathe Bell Tents and CanvasCamp Australia are thrilled to announce their merger, combining their strengths and expertise to form a dynamic partnership in the outdoor accommodation industry. This strategic alliance will bring together two renowned brands, providing customers with an unparalleled range of high-quality, innovative bell tents and canvas camping solutions.
Breathe Bell Tents has long been recognized as a market leader in luxury bell tents, known for their exceptional craftsmanship, attention to detail, and commitment to sustainable materials. With a strong presence within the Australian market, Breathe Bell Tents has been synonymous with premium outdoor accommodations with a bohemian style and has garnered a loyal customer base worldwide.
CanvasCamp Australia, a leading provider of canvas camping gear, has built a reputation for its durable and reliable products. Their expertise lies in designing and manufacturing robust canvas tents and accessories that cater to the needs of outdoor enthusiasts, ranging from campers to glampers.
The merger between Breathe Bell Tents and CanvasCamp Australia marks an exciting new chapter for both companies. By joining forces, they aim to leverage their combined resources, knowledge, and experience to develop and offer an extensive range of products that meet the diverse demands of the outdoor accommodation market.
Together, Breathe Bell Tents and CanvasCamp Australia will focus on enhancing their product lines, introducing new innovations, and expanding their distribution networks to reach a wider customer base. The merger will allow them to pool their research and development efforts, ensuring continuous improvement and bringing forward cutting-edge designs and features.
Customers can expect an even higher level of customer service and support as the companies combine their expertise to provide comprehensive pre- and post-sales assistance. With shared values of sustainability and environmental consciousness, the merged entity is committed to minimizing its ecological footprint by promoting responsible practices and using eco-friendly materials in their products.
Lucy at Breathe Bell Tents, said, "We're thrilled to join forces with CanvasCamp Australia. This merger represents a significant milestone for us, when dreams become goals and goals become reality! We're excited about the opportunities it brings. By combining our strengths, we will be able to deliver unparalleled quality and innovation to our customers, and together, we will shape the future of the outdoor accommodation industry."
Both companies will continue to operate under their respective brand names, appealing as they always have done to different markets, but ensuring a seamless experience for their customers. Customers can rest assured it is the same quality product and service they will receive.
About Breathe Bell Tents:
Breathe Bell Tents is a leading provider of luxury bell tents, offering high-quality outdoor accommodations for camping and glamping enthusiasts. With a strong commitment to sustainability and craftsmanship, Breathe Bell Tents has established itself as a trusted brand in the industry.
About CanvasCamp Australia:
CanvasCamp Australia specializes in the design and manufacturing of durable canvas camping gear, including tents and accessories. With a focus on quality and functionality, CanvasCamp Australia delivers reliable products for outdoor adventurers and campers.
For inquiries, please contact:
Lucy Paton
Breathe Bell Tents & CanvasCamp
1800 940 402
lucy@belltent.com.au