THE ULTIMATE BELL TENT BUYING GUIDE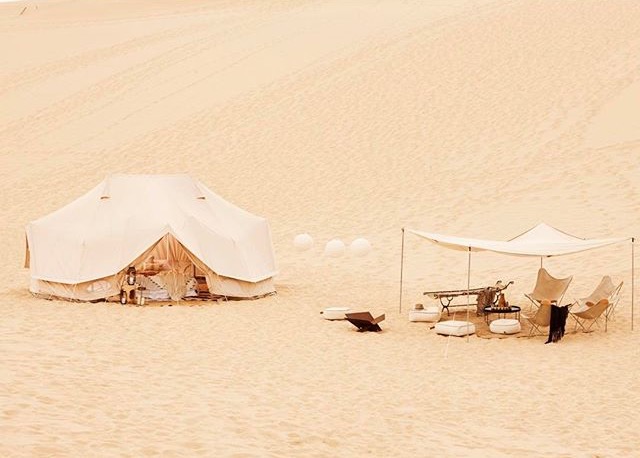 Investing in a bell tent is a big decision. It's worth doing your home work to ensure a canvas bell tent is the right tent for you and that the size and model you choose is right for you.
We've come up with a guide to assist you in making an informed decision.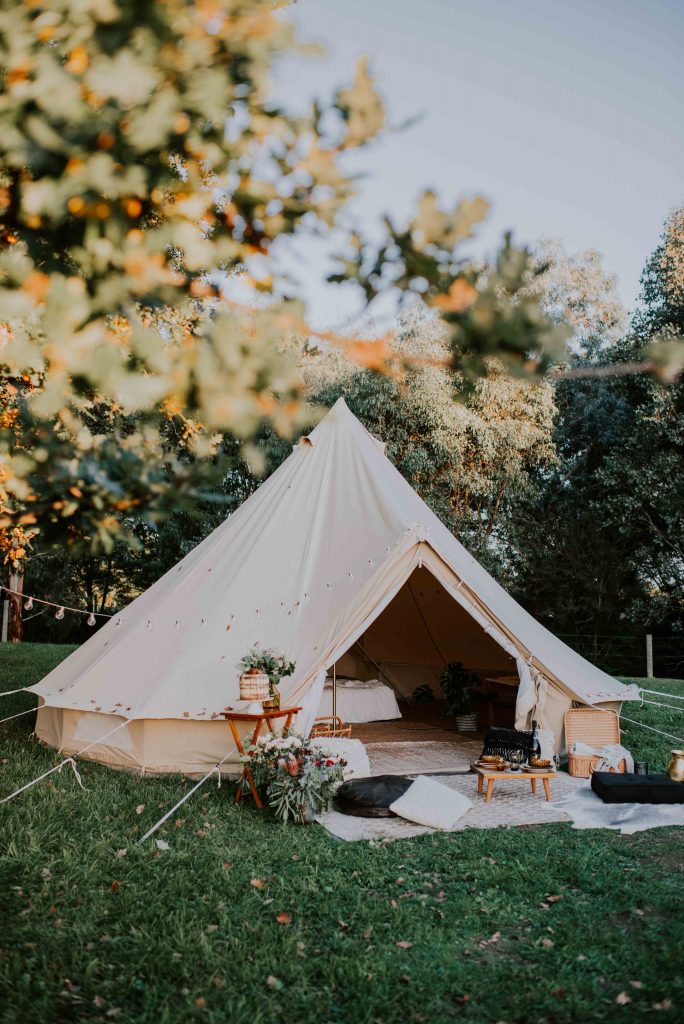 History and design
Originally designed by Henry Hopkins Sibley following research carried out studying the Native American Tipi in America. Sibley patented his design in 1858. Bell tents or 'Sibley Tents' have been widely used by the British Army in Australia during World War One, testament to their hardwearing nature and practical design. Photographic evidence suggests that Australian Sibley-pattern tents were used a great deal in Australia between 1880's and the 1940's.
The simple conical design has evolved over the years to what it is today: a lightweight, practical and stylish tent that can be erected by one person, in less than ten minutes.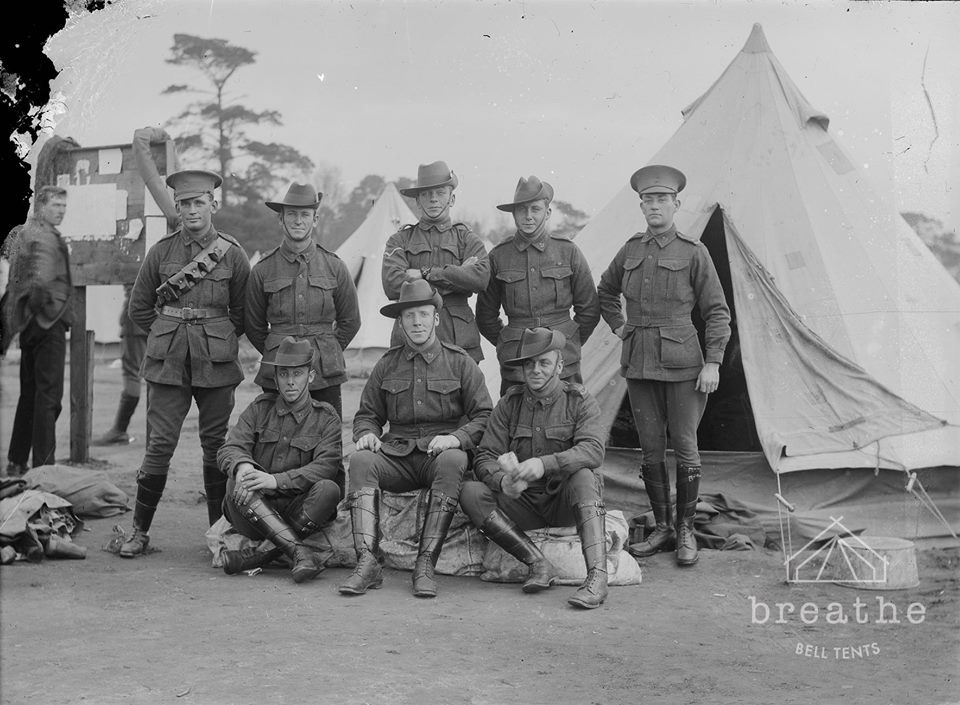 Materials
Bell tents are made from cotton canvas. Canvas is measured by weight, in grams per square metre or gsm. Some bell tents are made from 285gsm canvas, but the more durable and longer lasting tents are made with a thicker canvas, these withstand the harsher Australian weather conditions better than the lighter weight versions. We recommend a minimum of 320gsm to 360gsm canvas. Our Ultimate Pro/Protech models have a 360gsm canvas which has been designed for the professional user. This heavier weight canvas is heavier duty, has extra waterproofing and ant-fungal agents and is even considered to have better insulation properties ensuring the tent remains cool in summer and warm in winter.
Groundsheets are made from Ripstop PVC and are available in various thicknesses/weights. Groundsheet weights generally start at 480gsm and go up to 640gsm. We recommend a minimum of 540gsm for your groundsheet. Obviously the heavier and thicker the groundsheet, the more it will withstand tougher conditions.
Groundsheets also vary in the way in which they are attached to the bell tent. There are three options: A sewn-in groundsheet (SIG) (our DELUXE Bell tent), zipped-in groundsheet (ZIG) (our Ultimate and Ultimate PRO bell tents), and pegged-in groundsheet (PIG) (our Standard Bell Tent). Whilst the sewn in groundsheet will be more watertight in the event of flooding, it is generally harder to clean because the tent and groundsheet are all one piece. A zipped-in groundsheet allows you to roll up the side walls of your tent during the heat of the day allowing maximum air flow. This option also allows you to pack and clean the groundsheet separately if required. The tent can also be used for shelter without the groundsheet attached. The most recent bell tent models also feature an inner mesh wall that is zipped in to the groundsheet (our Ultimate PRO/Protech Model). This brilliant feature allows you to have the canvas sides rolled up whilst avoiding the Australian fauna!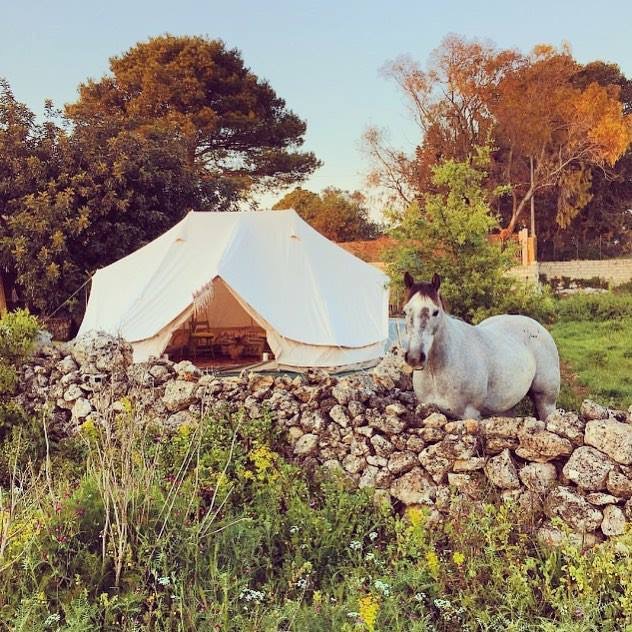 Weather
The Australian climate can be very harsh. The beauty of canvas lies in it's effectiveness in moderating the interior temperature of the tent. The Ultimate PRO bell tent with the mosquito mesh wall is great in the hot and humid climate of Queensland allowing the canvas sides to be rolled up and just the mosquito mesh walls allowing any breeze through. The thicker weight canvas has proven to endure the harsh Australian climate better than other models.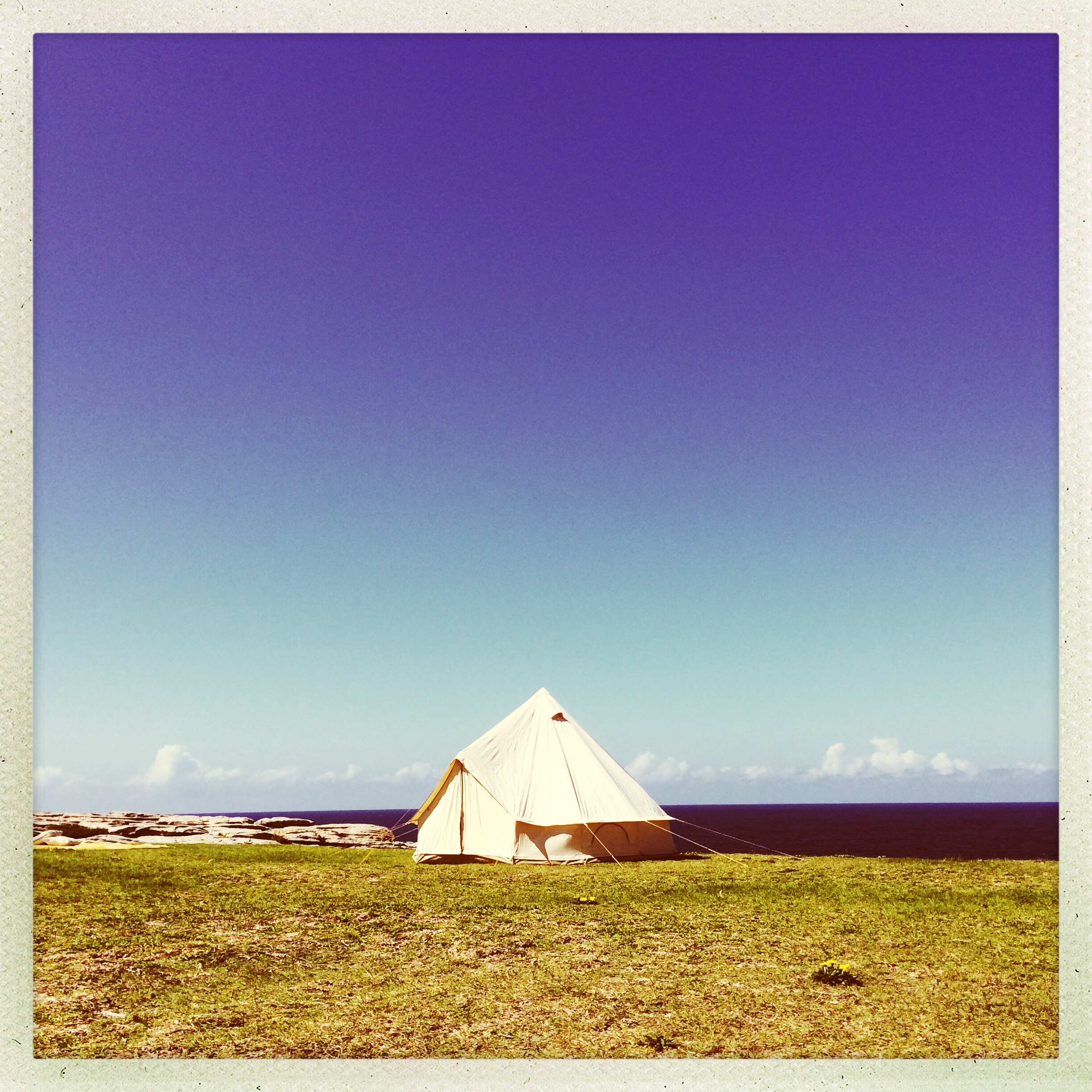 Usage
Bell tents are incredibly versatile. They can be used for camping, for festivals, for sleepovers, for backyard camping, for lovers of the great outdoors, as a fair stall, or an expo stand, as a chill out at a party, for rooftop camping, for school trips, for scouts, for hunters and gatherers, as a business opportunity with Airbnb or a 'glamping' set up. Have twenty for your guests at your wedding or as a honeymoon suite. We sell bell tents for all these purposes and we just love hearing what people will be using them for.
Fill your bell tent with cushions and use as a 'chill out' in the backyard, or style with a theme for a children's birthday party, adorned with bunting and fairy lights.
A bell tent really is a blank canvas to create a space that you can stamp your own personality on! You may even choose to decorate the exterior of your bell tent with weather-proof paints and turn it into a work of art. Or even have them painted by a scenic artist in LA and take it to Burning Man…..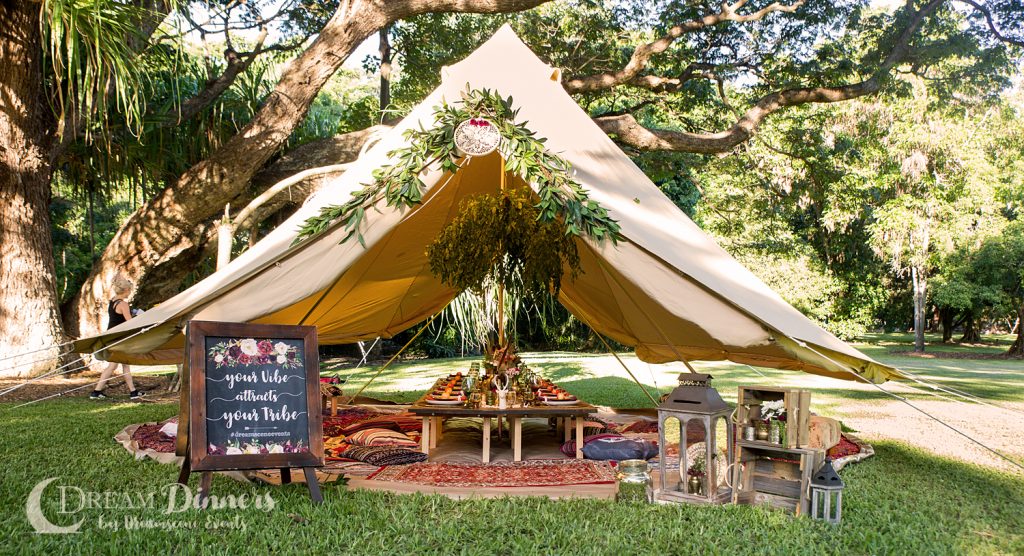 Size of tent
The 3m diameter bell tent is perfect for road trips or for a couple.
A 4m diameter bell tent is the perfect size for 2-3 people.
The 4.5m bell tent is the perfect sized tent, easy to set up and super transportable whilst still spacious inside. This tent is perfect for a glamping couple or a family that doesn't require all the extra space of the 5m.
The 5m diameter bell tent is perfect for families, those wanting a luxurious camping space, those wanting to live in their bell tent for extended periods of time and also for sleepovers or school trips. 4 people can sleep super comfortably in the 5m diameter bell tent and it can accommodate up to six adults.
The 6m diameter bell tent is ideal for those wanting to live in their bell tent or to use it for events, yoga retreats, as a meeting room or meditation space.
Guy ropes extend out by 1m all round.
When pitching your bell tent a 4m diameter bell tent requires 6 sqm of space, a 5m diameter bell tent will need 7sqm and a 6m diameter bell tent will need 8sqm. It is worth bearing in mind that some campsites may charge you extra if you require more space.
The 5m diameter bell tent is our best seller, although since the introduction of the 4.5m diameter bell tent we think this might become our new best seller!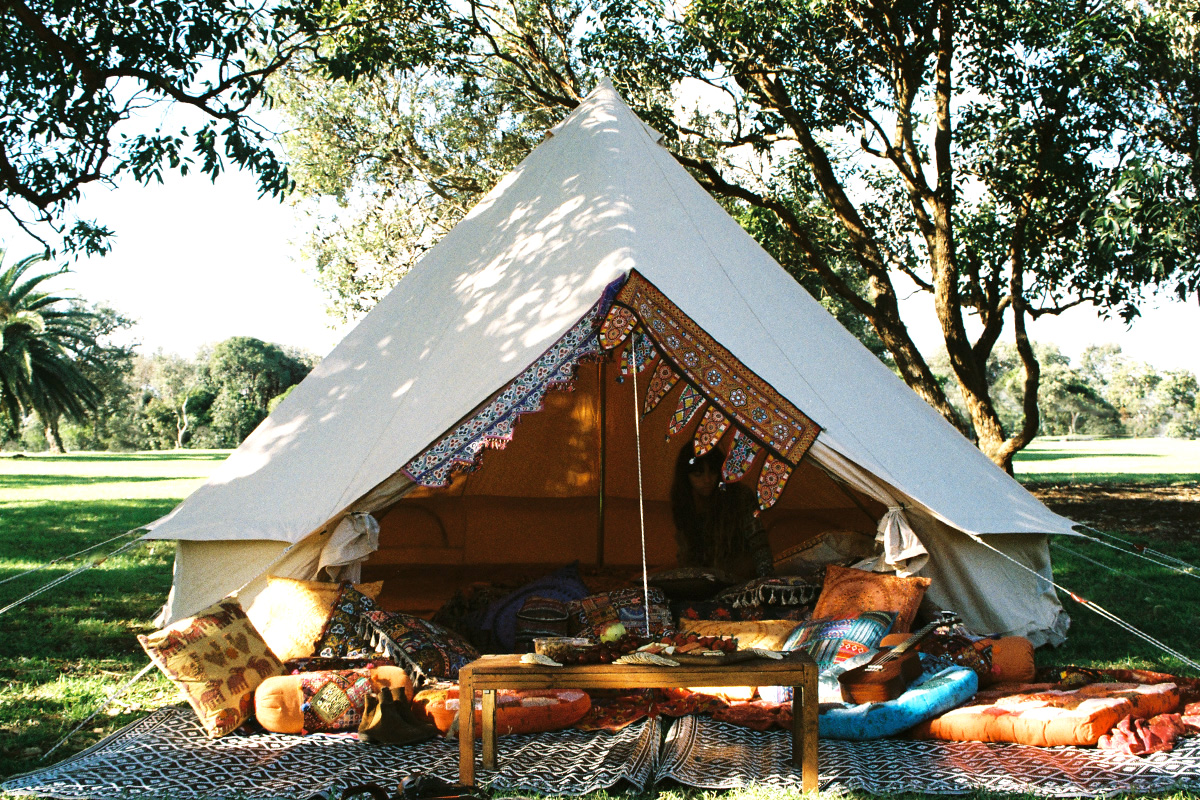 Pitching
Pitching a bell tent is easy and takes 1 person only 10-15 minutes! It may take a little longer on your first pitch, but once you know how, it's easy peasy!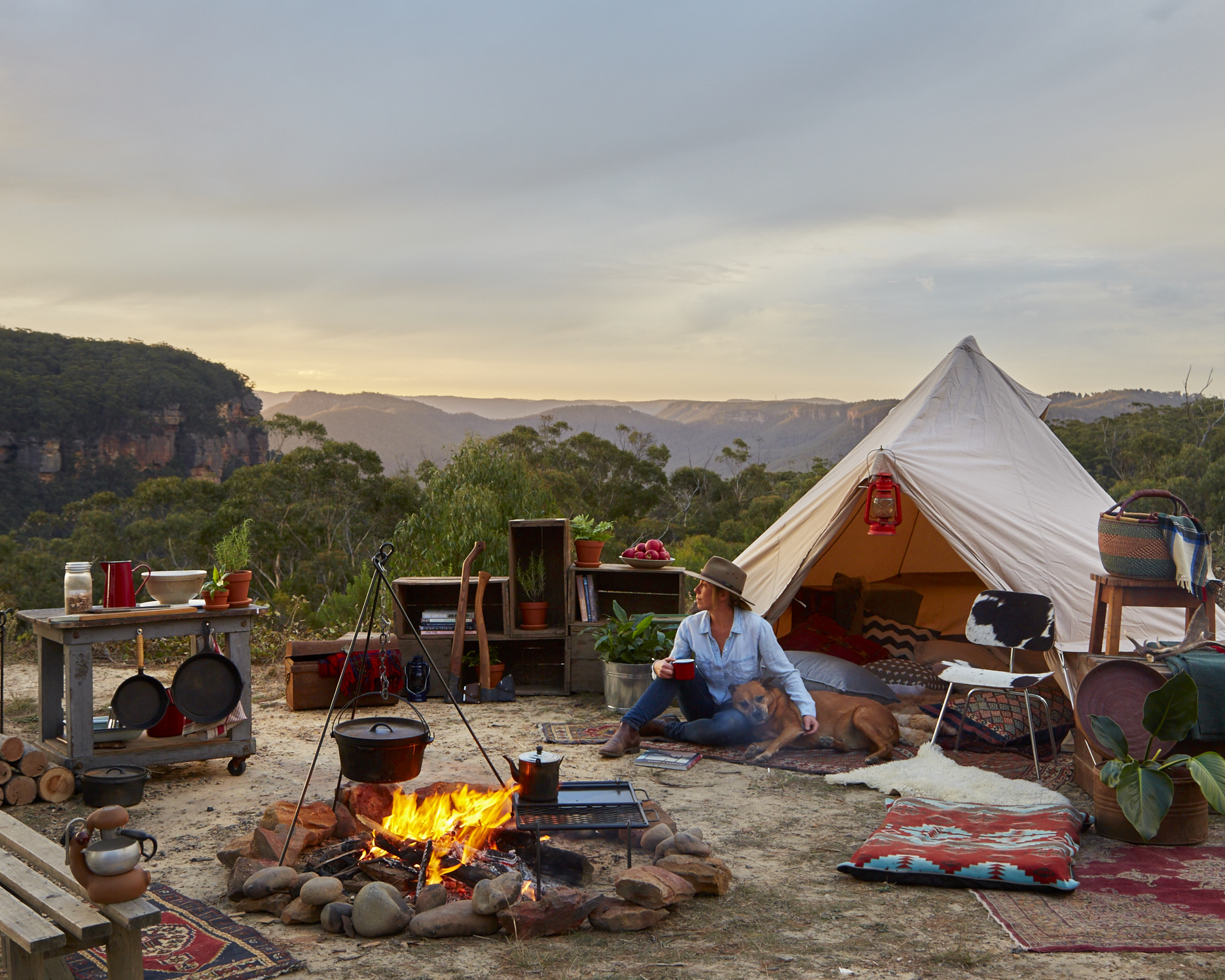 Weight and transport
Made from thick cotton canvas, bell tents are not the lightest of tents. Generally a bell tent will need to be lifted in and out of your vehicle and carried to your pitch. Although we have been proven wrong and a customer took his bell tent in the back of a Kayak upstream and another on the back of a motorbike to tour Australia…. But the weight of these tents does need to be taken into consideration.
Our lightest bell tent is the Standard Bell Tent with the 4m version weighing a mere 16kg. This is the tent we recommend to those wanting to carry it into a festival, or up a mountain or to a remote beach. Our bell tents range in weight from 16kg's and up to 60kg's for the 6m Emperor Twin Bell Tent.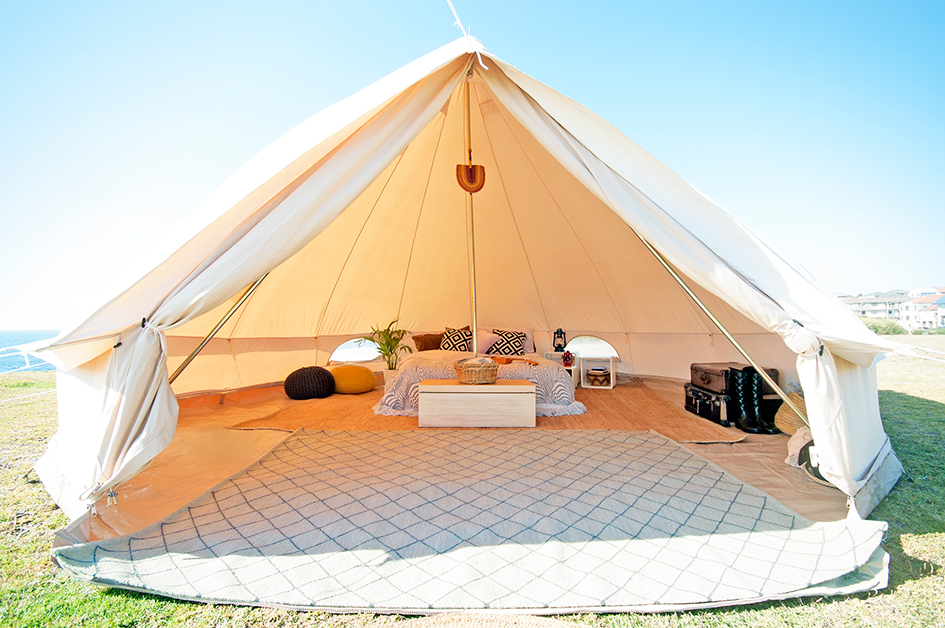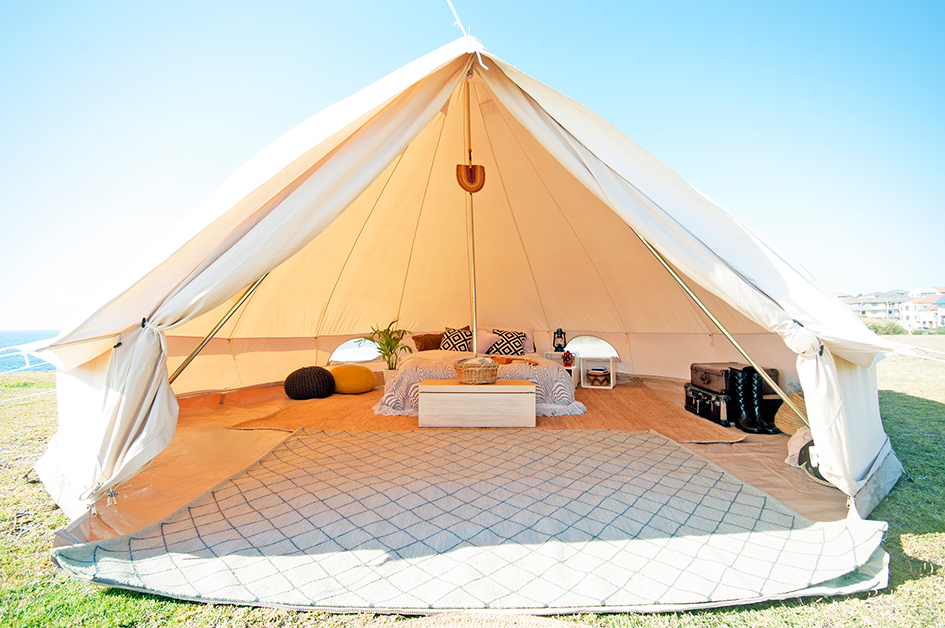 General care
The fibres of the canvas expand the first time they come into contact with water and this serves to seal the canvas. Ideally your bell tent should be 'weathered', this can be done by setting up your bell tent in your garden/backyard/park and hosing it down or allowing it to be rained on.
If you must pack your bell tent away whilst it is wet, be sure to unpack it as soon as possible, hanging it out to dry either in the sun, or in a room with a dehumidifier, to remove all the moisture from the canvas and groundsheet.
We recommend having the bell tent professionally cleaned once every 2 years to retain its optimal use.
Treat your bell tent as an additional member of the family, with love and care, and it will pay you back tenfold in the enjoyment and pride it will bring you.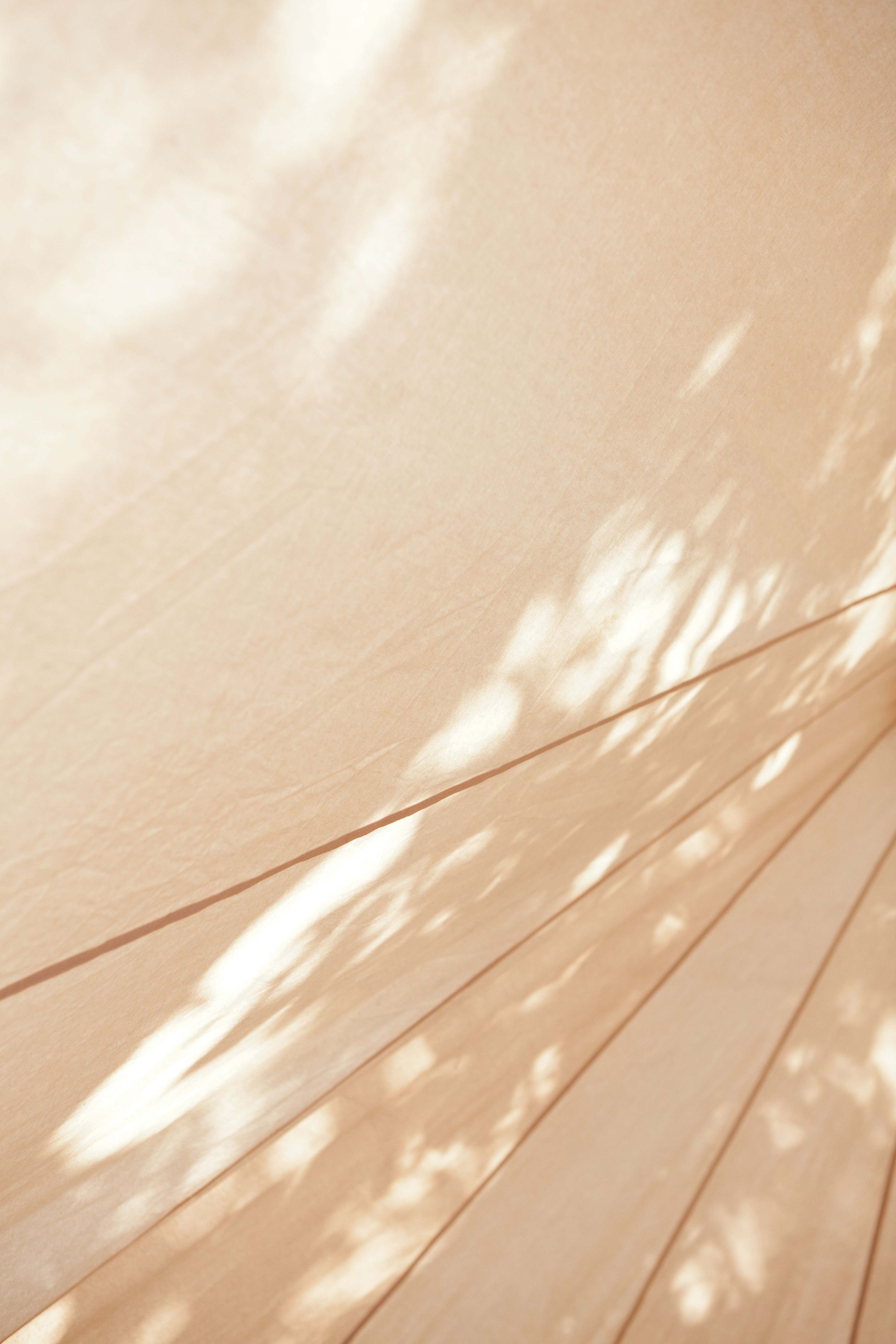 Cost
Bell tents are an investment in a lifetime of wonderful camping adventures that you will cherish for years to come. They are not a throw away festival tent, well maintained a canvas bell tent will last you a life time.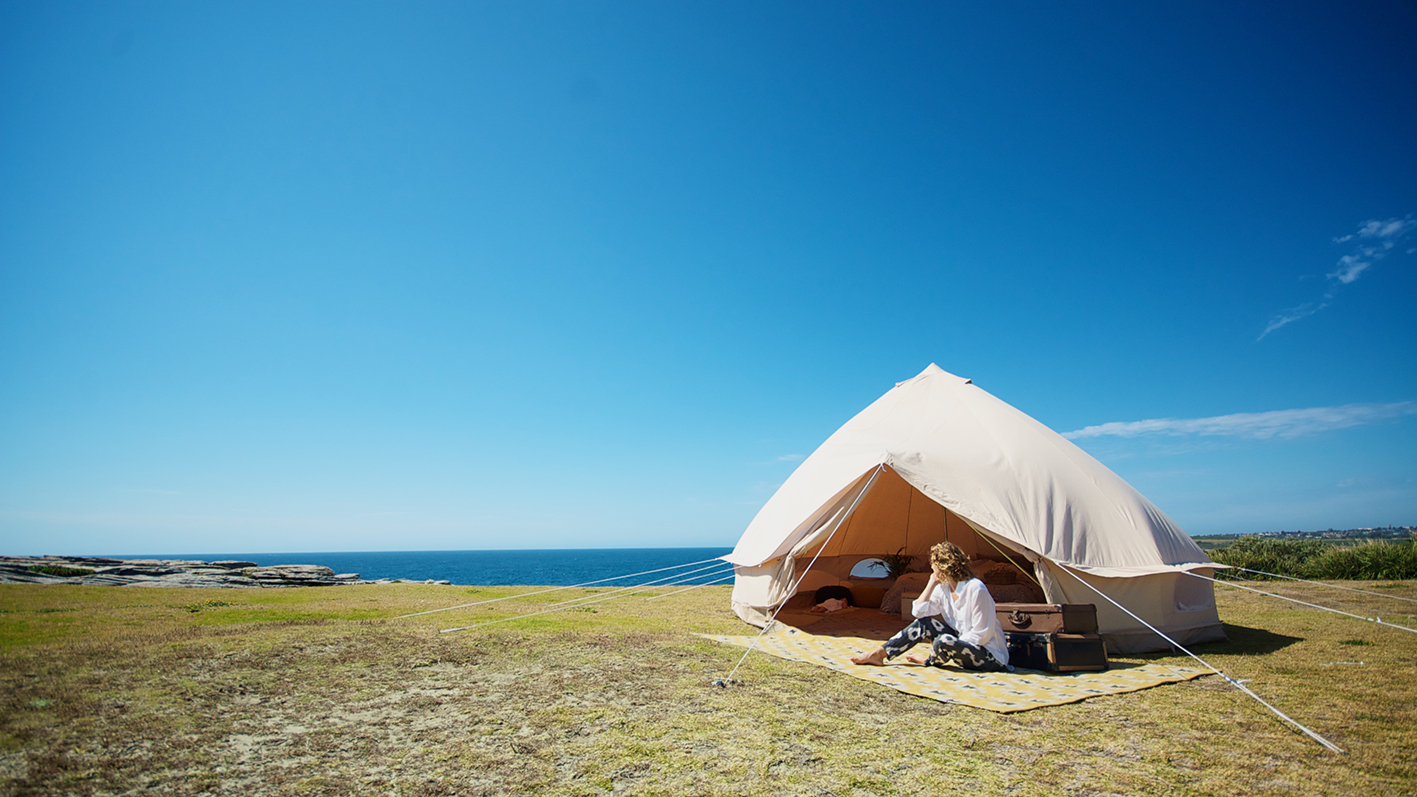 Styling
Style your tent with accessories creating a home away from home.
Rugs scattered across the groundsheet, and placed outside the front door, add warmth and bring your tent to life. There are lots of reasonably priced options when purchasing rugs.
The one essential piece for any camping trip is the chandelier. This lit with tea-lights or battery operated candles makes the tent literally glow like a lantern.
String up some bunting along the front of the tent, and around the inner walls, or from the centre pole, to bring decorative fun and vintage style to your tent. Go mad on Etsy or try making your own!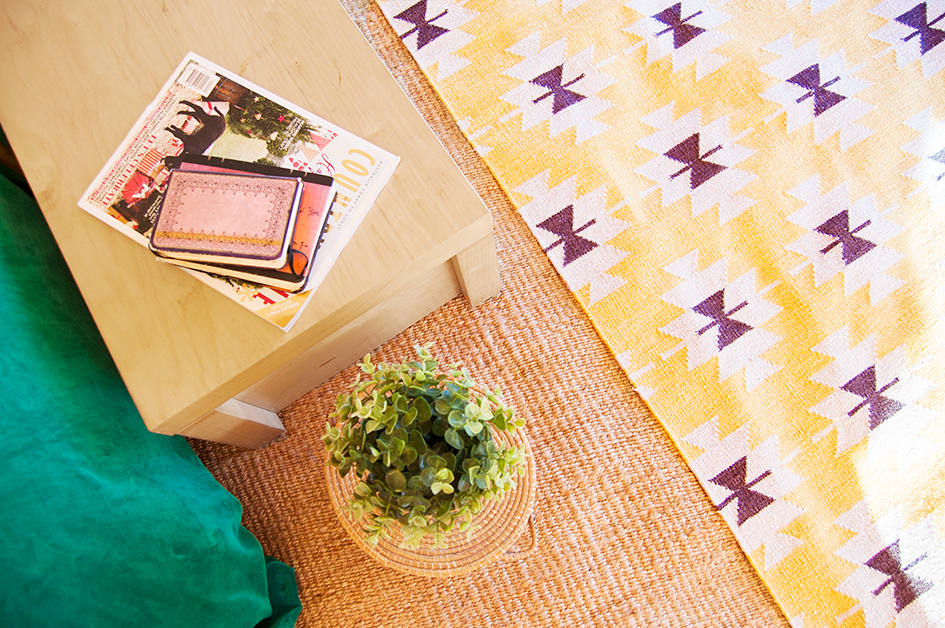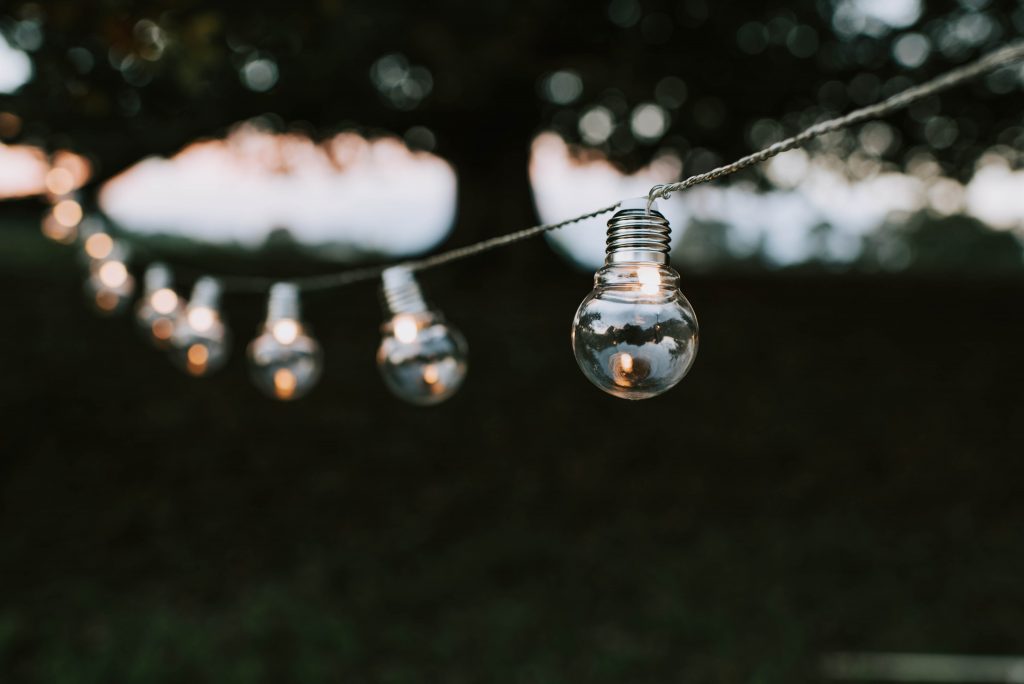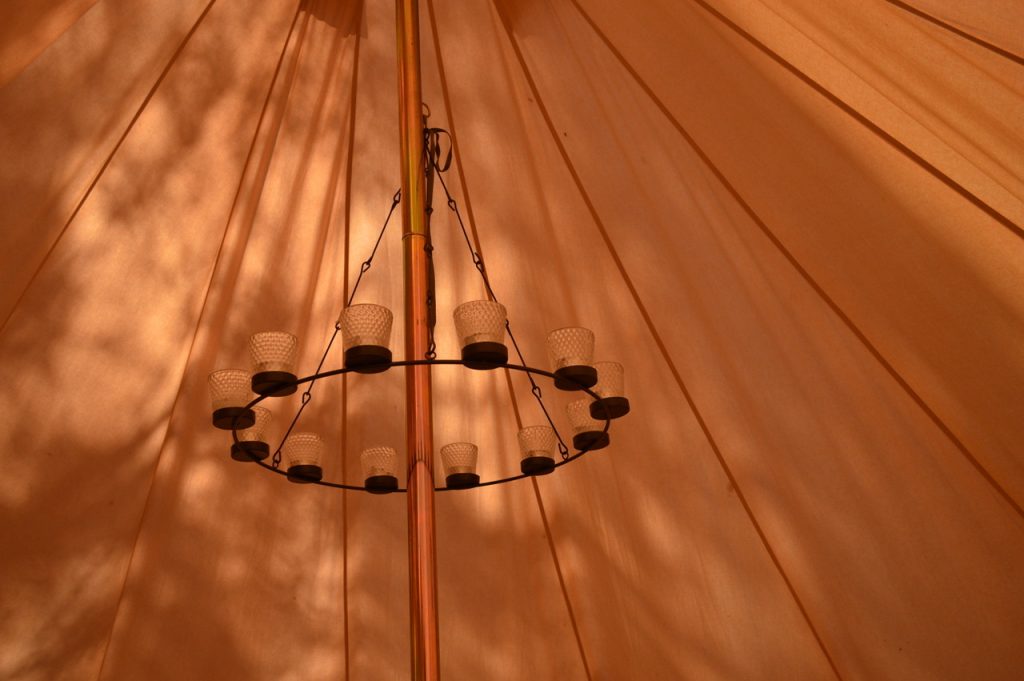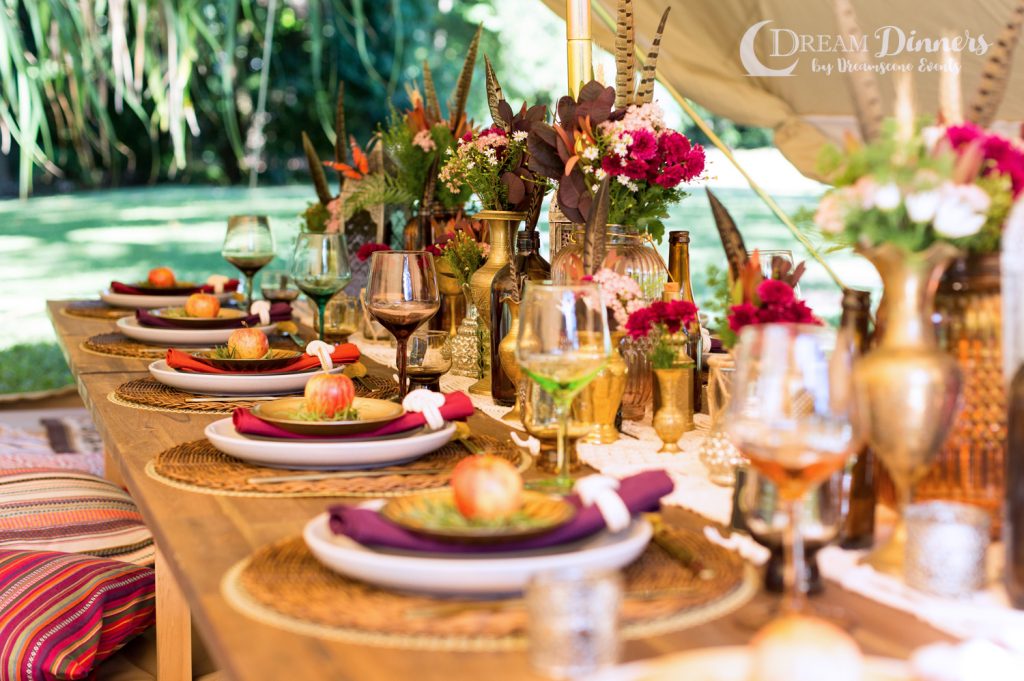 Fire-Pit via Breathe Bell Tents Australia